This 2000 Porsche 911 Carrera (VIN WP0AA2993YS622557) has a claimed 61,525 miles and is finished in "Meridian Metallic" over Black leather. No mention of any IMS/RMS work. Find this one offered here on Cars.com in Toms River, NJ for $17,937.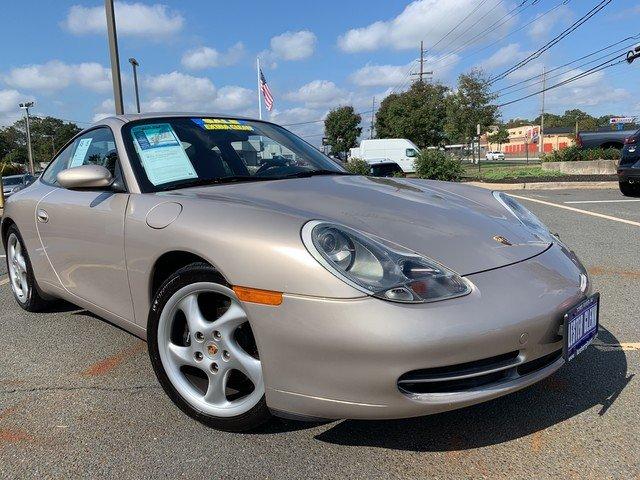 Lester Glenn Hyundai Subaru, my first thought was this classic..
How much you want to bet this was traded in for a base Forester? Anyway I digress.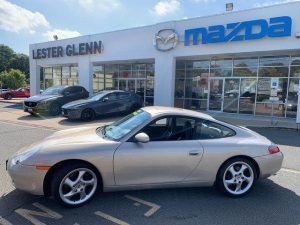 Meridian Metallic is such a weird color. It's a love it or hate it color in Porsche circles. In fact, it was hated so much that after a few years Porsche started calling it Meridian Silver Metallic to convince buyers it wasn't Beige but actually silver (huh?). In some pics it really does remind us of that awful early 00's Toyota Desert Sand Mica. How many readers had a mom/dad that drove a Camry/Corolla/Highlander in that color? That being said, there are some days where we see a car in Meridian and love it, so what do we think, yay or nay? We'll run a poll on the IG.
On the exterior this 996 is equipped with the non-amber front and rear lenses, litronic headlamps and no rear wiper.
18″ 993 Turbo Look wheels are stock from the factory, and in our opinion the best looking wheel on a non-aero 996.1. No indication from the seller regarding age/condition of the tires, but the Carfax says new tires were mounted in 2014.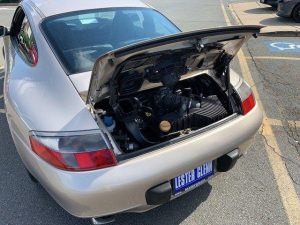 The 2000 Carrera came with a 300HP 3.4L flat-six and RWD. No factory LSD (bummer) as it was only offered on '99 Carrera coupes. The 4 hp increase (296 to 300) from 1999 to 2000 Carrera's was due to the "e-gas" throttle which was standard in all Carreras save for the '99 Coupes. "E-Gas" replaced the conventional mechanical cable throttles found in every prior 911 to date (bummer). The selling dealer makes no claims that the IMS, RMS and AOS (air oil separator) have been replaced, so budget accordingly. Speaking of the Carfax, TONS of Porsche dealer maintenance all the way up to early this year. That is a huge plus as we can assume no expense was spared.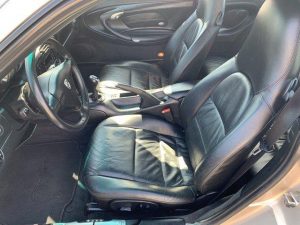 The interior is finished in Black leather. From the sellers pictures, we spy the full heated supple leather seating (dash and door cards), 3-spoke steering wheel, PASM and aluminum dials. There does appear to be pixel damage on the cluter.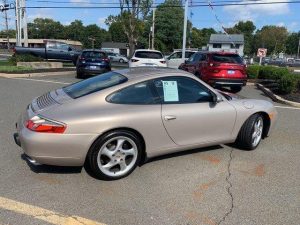 Narrowbody, 300 HP, 6speed, RWD in love or hate Meridian Metallic. Clean Carfax, 4 owners, and up to 2019 Dealer maintenance. If you are a fan of the color, this appears to be an excellent #firstflatsix. Get that PPI done and enjoy this gold beauty in a sea of silver and black 996's.