This 2001 Porsche 911 Turbo (VIN WP0AB29901S686896) has a claimed 18,694 miles and is finished in Polar Silver over Metropol Blue full leather. No real additional info from the selling dealer. Remember, no IMS/RMS work needed with the Turbos as they lack the IMS bearing design. Find this one offered here on Cars.com in Paris, Illinois for $47,850.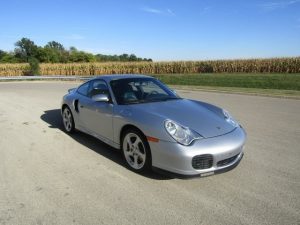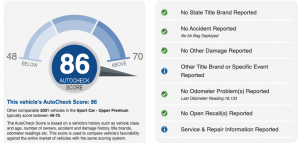 Autocheck is clean and it's waiting for you to the lucky 3rd owner. We think Polar/Metropol is a great combo and this is a GREAT ask considering the low collector grade mileage.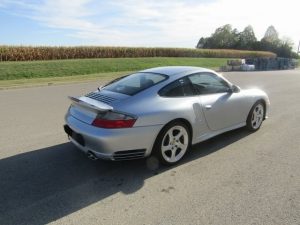 2001 saw the introduction of the 996 Turbo. On the exterior, the Turbo body was widened 65mm at the rear and a new moving rear wing was designed to improve lift busting.
The front-end was redesigned with a new bumper designed for better road holding and downforce and the lights were reworked after all the complaining customers did because the 911 couldn't be distinguished from the "pedestrian" Boxster. The best part of this car is that it was ordered with the front bumperette delete option. Those things are horrid and leave a huge hole in the bumper if you try to remove them after the fact.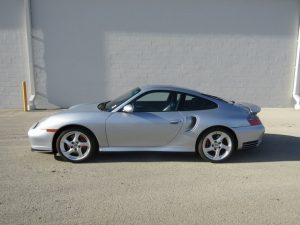 This Turbo appears to be a pretty base spec. From the build sheet, the only options are the Polar Silver Metallic paint (was an upcharge), bumperette delete, colored wheel caps and the full leather seats. We actually prefer our 996's to have minimal options anyhow.
This 996 Turbo sports the M96/70 twin-turbo charged, DOHC engine good for 420 HP with updated VariocamPlus and DME. Porsche couldn't fit the intercooler on top of the engine, like in previous iterations, so it was split into two and mounted on each side of the engine. The cooling is supplied through the ducts to the rear of the doors (thus widebody).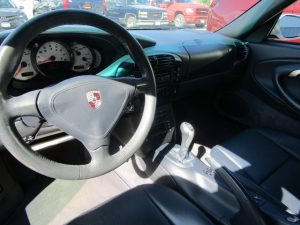 The interior is finished in "Metropol Blue" with the full leather treatment. Build sheet is showing Aluminum dials as the only other interior option.
These 996 Turbos offer exotic levels of performance for not much money these days. The asks on these cars are getting pretty ridiculous. We are seeing low mileage examples like this with asks of mid-high 60's and even some in the 70's. This car is a "steal" at the current ask. Like below wholesale, I know nothing about Porsche pricing asking price. If you're in the market for a low mileage collector grade no story car, this appears to foot the bill. Ask for a PPI! And please don't forget the DME printout. Make this turbo your #firstflatsix before one of the Boutique dealers does and asks $69K.